Here are some testimonials from satisfied clients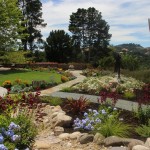 We found Lynda after 3 unsuccessful attempts at hiring a qualified, imaginative, budget sensitive advisor. We had many ideas but nothing on paper! Lynda listened, looked, measured, asked questions and got a feel for the ambience to be created and presented us with alternative plans on paper for discussion. She is a straight forward, time sensitive and professional. The work was supervised accordingly, new hardscape and softscape were laid beautifully, and the plan emerged and resulted in a tranquil, peaceful harmonious backyard. Thank you, Lynda.
Ted and Adeline, Orinda CA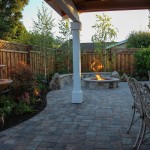 My work with Lynda Meikle, Outer Visions Landscape Design aimed to design a plan to landscape my Pleasanton home backyard. I was thrilled when Lynda and her team implemented the plan that resulted in a spectacular outdoor setting perfect for my family and friends to enjoy for many years to come. That was beyond my expectations in terms of incorporating all the features that I wanted in one fairly small space.
What I appreciated most about working with Lynda was her knowledge in her field, her design creativity, her attention to detail, her responsiveness and delivery of the expected results and then some.

Lori W, Pleasanton CA
I was very impressed with the time Outer Visions spent in getting our project right. From working with us to create the initial design, then advising and working with the contractor to carry out the plan including picking out all the plants and placing them carefully to be planted. Outer Visions checked on every step of our project. After everything was in, they gave us a listing of all plants and directions for caring for them. I feel that our money has been well spent in hiring them as our consultant. Best of all, we have a new backyard space that is beautiful and unique!
Clare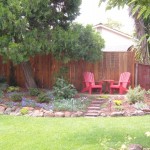 I have known Lynda for more than 8 years. She designed the landscaping for our front and back yard. We wanted a Zen garden on the side of the house and through her vision and creative eye, the garden was realized. It was beyond our expectation and the design fee was very reasonable. The plants and shrubs used were of the highest quality. Lynda is a good listener and we work as a team integrating all of our good ideas into the landscaping. She is very organized and prompt in returning calls and keeping appointments.  Another nice touch is that she periodically comes by to see how everything is doing. We feel she's constantly involved in keeping us happy with our landscaping.
Barb, Pleasant Hill
Lynda designed my backyard back in 1998. My yard is lovely and we have really enjoyed it over the years.
Today I had the opportunity to tour a property that Lynda recently designed in Pleasanton off of Foothill Road. It was truly one of the most beautiful gardens I have ever seen, complete with unique Australian plants, gorgeous pots, wandering pathways and 3 incredible water features. Lynda is a very talented landscape designer and a pleasure to work with. I would highly recommend Lynda and her company, Outer Visions.
Diana A. Danville, CA
Lynda truly has a gift for creating a landscape vision for your yard, and then transforming it into a beautiful oasis. From positioning that decorative boulder just right, to personally hand selecting the best plants for your yard, she's that landscaping/plant expert you will want back time and time again.
Cindy K. San Ramon, CA
Lynda was great at listening to what we wanted and giving us great options. She encouraged us to think about different ideas. The process resulted in a beautiful design that everyone who sees it says it looks great. She also gave us some excellent contractor references. We selected one of her references, Nico Echeverria Landscape out of Livermore, and he and his crew did an excellent job.
Jim P. Pleasanton, CA
Lynda has created two beautiful spaces in our yard, the front and the side yards. The front yard is not only beautiful, but easy to maintain. The new side yard that she created last spring is the serene and relaxing area that I have always wanted. She listened to what I was searching for and created a space in my yard that I love to walk through, sit in and relax and best of all I can see from my kitchen window. It is truly more than I could have imagined. The contractors she used were courteous, helpful, left the area clean every day and arrived when they said they would. I would recommend Lynda to anyone looking to create that special spot in their yard, no matter how large or small.
Cheryle N. Livermore, CA
Lynda Meikle is the best. She developed a pleasing and functional design for my small yard that reflected my personality, as well as provided privacy from nearby neighbors. Her pricing for the design was reasonable and she was able to connect me with equally reasonable contractors to carry out the design. Would I hire her again? You bet! Without a doubt!
Glenda L. Dublin, CA
I have always loved working in the garden and envisioned a peaceful sanctuary where I could tend to my plants and reap the rewards of my labor. Lynda from Outer Visions fulfilled my dreams and more of a beautiful garden for our home. She listened to my ideas and the design she developed was beyond my expectations! In addition to her landscape design expertise, she was easy to work with and went out of her way to make sure all our needs were met from selecting the best possible plants, glazed pots, and accents to always stopping by during the construction process to make sure the contractor adhered to the design plans. What is amazing is that she continues to "check in" with me and answers any garden question I may have. We now have "another room" in our home to entertain friends and family and a peaceful niche to relax and kick back. I might also add that we continue to receive rave reviews from anyone who steps into our garden. I highly recommend Lynda to anyone who is planning to landscape their home. She is the best designer in town!
Rochelle and John, Pleasanton, CA
Lynda Meikle is a lot of fun to work with. Her knowledge and enthusiasm for plants, her creative designs and her unique ideas all came together to give us a wonderful vision of what our yard could look like, well before a single stone was turned. If you are looking for plain straight lines and run-of-the-mill boxy structures, you've come to the wrong place! The flowing curves and graceful arches she designed for us were appealing in concept and breathtaking in the final execution. When we saw the first detailed plans of our exterior landscape as it could be, we knew we'd finally found the right visionary to help transform our outdoor areas from functional and boring to vibrant and delightful. Far from adopting the prima donna attitude so prevalent with many designers today, Lynda was more than willing to work with us every step of the way, incorporating our thoughts and desires and weaving them into an overall design concept that we loved. And when the time came, she was unafraid to put on work gloves and get as grubby as anyone, physically helping shape our shared vision into a stunning reality. We'll definitely partner with her again if we ever relocate or decide to make changes to our current landscaping.
Darren and Sandra, Livermore, CA
Dear Lynda, I am writing this note to attest to the wonderful job you did in designing my new Landscape and Hardscape.

You listened to my wife Bernadette and me about some of the things we wanted to see. You then designed our front, side and back yards with ideas that we would never have thought of. You broadened our vision.

We have plants we didn't know existed, in wonderful and complementary colors and shapes. We have retainer walls, dry creek bed and steps to the lower level that are in themselves artistic. We have an amazing fire pit and seating area that is the envy of our family and friends. We have strategically placed lighting and we have a driveway that uses the stamped concrete and flagstone in a very attractive way.

You worked with our contractor, complementing their work and on occasion, changing what was being done. You have been there for us throughout this project and Bernadette and I very much appreciate your work and talent.

We would not hesitate to recommend you to our friends and family.
Ed and Bernadette